Coocakes? or Cupkies?
I've entered Tina's
Moms Crazy Cooking Challenge
. Once a month, cooks from all over the blogosphere will take on the challenge of finding a recipe from another blogger, prepare it, then share that recipe on their blog, simultaneously!, and have a linked up list of the other challengers and their recipe choices. Your job -- should you choose to accept it -- is to visit as many as you can to discover recipes they have found and possibly new bloggers to follow. And, then, you're supposed to VOTE for your favorite recipe. (No pressure here, but should you be so moved...) My understanding is that you are also welcome to join the challenge, too! This month's challenge is Chocolate Chip Cookies.
That said, Debbie Koenig at Words to Eat By intrigued me with this recipe,
Unbelievably Good Chocolate Chunk Cookies
. I decided to give a solar twist to it and do something I've wanted to do for a very long time. If you've been following me, then you know that there are few and far between sweets here and I happen to be one of those people who don't particularly care for chocolate. But, I didn't want a day of cookie baking, so decided to try out my mini-muffin pans in the solar oven. Tada!
At 300F, the solar oven did two batches at just under twenty-five minutes, each. Frankly, the next time, I would check them just a hair sooner (like, twenty minutes) because the surround heat of the cups helped the cooking. Keeping the dough level to just under the top edge of a small ice-cream scooper, there was approximately a tablespoon of dough per cup or what would have been a 2.5" to 3" flat cookie. These Coocakes(?) or Cupkies(?) were crunchy on the outside and nice and soft on the inside -- and, fun. And, these are unbelievably good chocolate chip cookies! Have fun checking out the other fantastic recipes, too, and meet some new friends.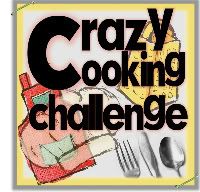 Please visit
Moms Crazy Cooking Challenge
and VOTE for me -- I'm Number 56 in the pictures. Just click on the "Like" beneath the picture and over the caption, "Best Ever Solar Chocolate Chip Cookies," because, well, it just happens to be true
!