Solar Upside Down Pear Chocolate Cake
It's time, again, for the
Crazy Cooking Challenge
and February's challenge is chocolate cake! Now, who wouldn't want to participate in a chocolate cake challenge and discover some great recipes from other bloggers? There were so many to choose from, yet, I kept returning to Stephanie's blog,
A Whisk and a Spoon
, because of her adaptation of a recipe she found in
Rustic Fruit Desserts
by Cory Schreiber and Julie Richardson. I love anything rustic that brings a sense of history into a new generation of cooks. So, here's my solar-baked adaptation.
Solar Upside Down Pear Chocolate Cake
You'll find the recipe at Stephanie's blog (see how I get you to visit her! ) and I just have a few things to add. I did use a spring-form pan but, to prevent leakage of the caramel sauce, I lined the bottom with foil and then sprayed with an oil and flour mix.
As you can see, it's just enough foil to contain the sauce, pears, and cake batter. I did the sauce in my microwave and took it out just before it began to turn golden brown because I knew it would continue to cook during baking. I toyed with adding rum to the caramel mix, but decided to stay as close to the recipe, as possible, and will definitely do it another day. The big difference is that I only bought two pears instead of three, as the recipe calls for, and so had to slice them thinner to copy the pattern.
This batter is scrumptuous and rich. I didn't have any dark baking chocolate and used semi-sweet dark chocolate pieces, instead. It's important to time everything so that the VERY HOT caramel sauce doesn't heat your pan so much that it melts the oil and flour coating. I prearranged my pear slices on a paper plate, first, and then placed them in the sauce.
I baked my cake in a preheated solar oven at 275F for approximately 70 minutes. I did the toothpick test and the crust was crispy and inside texture moist and delicious without clinging to the knife; but, I think it would have been fine after just 60 minutes. As you can see, my thinner pear slices became translucent during the cooking, the caramel sauce got darker, and the rich, dark, chocolate almost overwhelmed the pears. Next time, I'll use three pears and make the slices at least 1/4 inch thick. But, it's still very pretty; don't you think?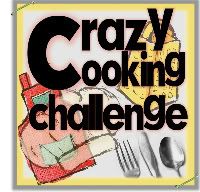 Here's the other entries. I hope you'll visit and leave some comment love -- I'll take some love, too! Have fun.